mysterious, world, mysterious world, ancient, myth, mythology, mythological, pyramid, ruins, temple, treasure, archaeology, archaeologist, travel, traveler, exotic, journal, ziggurat, god, bible, biblical, old, weekend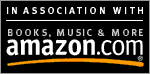 Passion: Music for the Last Temptation of Christ
Rating:






This CD received superb reviews (5 stars) and is personally recommended by the publisher. (The background music on this page is from "Open", the tenth track of this CD.) Click here to purchase.