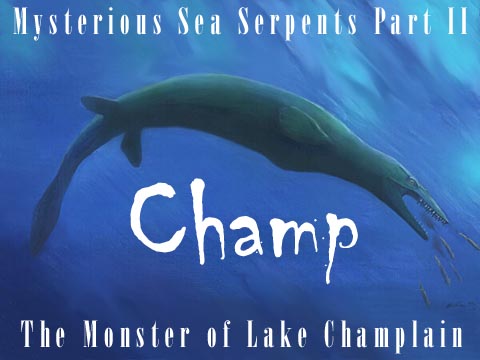 Editorial | Fragments | Shasta II | Sea Serpents II | Atlantis II
Register for our new Hall of Records Newsletter!
Questions? Comments? Suggestions? Advertising? Press Releases? Contact us!


Mysterious Sea Serpents Part I: The Loch Ness Monster | Part III: Ogopogo
Part IV: The Search Continues

Lake Champlain History | Champ Surfaces | The Search Today
Visiting Lake Champlain | Champ Links | Champ Books | Champ Video


ake Champlain, "the sixth Great Lake", is a large, freshwater lake sandwiched between Vermont and New York, also extending some ways into Canada's Quebec province. Ninety percent of the water that replenishes the lake is derived from the Lake Champlain basin (shown left), which was created by glacial action. Several mountain chains are present in the valley also, including the Adirondacks, the Green Mountains, and the Taconic Mountains.

Lake Champlain, though it does not rank in size with the Great Lakes, is still an imposing body of water, stretching 120 miles at its longest point from Whitehall, New York north across the U.S.-Canadian border to its outlet at the Richelieu River in Quebec.1 Champlain is also 12 miles at its widest point, and over 400 feet deep at its deepest point — more than enough lake to harbor a monster.







Lake Champlain was first discovered by its namesake, French explorer Samuel de Champlain, in July of 1609.2 Champlain was famous in his time as "The Father of New France", which referred to the then French-controlled territories in what is now North America. Champlain frequently traveled in the areas that would later be known as New York, Vermont, and Quebec, and kept close contacts with the Algonquins, with whom the French had become allied. In order to help safeguard his passage from attack by the aggressive Iroquois during his first expedition to what would become Lake Champlain, Champlain teamed up with the Algonquins, who often warred with the Iroquois (Oneida) for control over the waterway between Lake Champlain and Lake George.3

In the 18th Century, the Lake Champlain area became an area of contention between the British and the French, which centered particularly over the same Lake Champlain-Lake George passage that was a major point of contention for the Algonquin and the Iroquois. This conflict took various forms until 1757, when the British defeated the French and drove them from the area at the conclusion of The French and Indian War.4

Lake Champlain is also famous for being the setting of the first naval battle between the British Navy and America's first Navy, led by the then-hero General Benedict Arnold. It started in 1776, when Arnold volunteered to lead a group of 1,000 volunteers in a preemptive attack on the British at Quebec City. Though the journey was a disastrous failure as an attack, it was a great success as an intelligence-gathering mission, for during his journey, Arnold learned of Britain's secret plan to divide and conquer the colonies via an attack from Montreal via Lake Champlain. Arnold then attacked the British fleet assembling on Lake Champlain with the intention not of winning, but of delaying its progress long enough for winter to set in, forcing the invasion to be postponed until spring. This gave General Washington enough time to build up an adequate fighting force to resist the British, saving the unprepared Colonies from certain defeat at the hands of what would have been the largest British army ever fielded.5




Though Lake Champlain is rich in history, perhaps the lake's most famous claim to fame is Champ, "The Monster of Lake Champlain". Champ has been variously classified as prehistoric survivor, a giant species of fish or other known aquatic creature mistaken for a sea monster, or merely as a figment of the area's rich collective imagination. As we saw in Part I of this series, belief in the existence of sea serpents appears to be a part of the human experience. This "wanting to believe" in the cryptic most likely makes up a large proportion of the sightings of sea serpents not only in Lake Champlain, but around the world.

Those who believe that the creature is a prehistoric remnant fall into two camps: Champ is a plesiosaur, like Nessie, or a surviving species of extinct fossil whale, such as a zeugledon (below, right) or a mosasaur (shown at the top of this page).

Though both sides have cogent arguments, most tend towards the plesiosaur theory, as Champ — or at least that part of his body that is most often seen breaking the surface — is often described as being serpentlike in appearance, with a horselike head and brown or gray skin like that of an eel. Though we are unsure of the color and texture of plesiosaur skin, we do know from their fossil remnants that they also had long, snakelike necks surmounted by small, horselike heads, a structure that closely matches most of the descriptions of Champ.

Sightings of Champ are both fairly numerous and relatively old. Here is a fairly comprehensive listing from the first recorded sighting to the present day:

According to Loren Coleman in his seminal work on American cryptozoology, Mysterious America, the first recorded possible sighting of Champ was made in 1609 by Samuel de Champlain (q.v.) who spotted what he referred to as "a serpentine creature about 20 feet long, as thick as a barrel, and with a horse-like head."6 However, based upon Champlain's journal — as presented by America's Historic Lakes — the creature described by Champlain was probably a sturgeon or, most likely, a gar:
There is also a great abundance of fish, of many varieties: among others, one called by the savages of the country Chaoufarou, which varies in length, the largest being, as the people told me, eight or ten feet long. I saw some five feet long, which were as large as my thigh; the head being as big as my two fists, with a snout two feet and a half long, and a double row of very sharp and dangerous teeth....7

Despite the fact that Champlain observed unusually large wildlife in the area as early as 1609, sightings of a "monster" did not start appearing until the early 1800s, when settlers began to move to the Lake Champlain area en masse in search of cheap land. The first known official report of a "monster" in the lake appeared in the Plattsburg Republican on July 24, 1819, that described pioneer settlers being startled by a mysterious creature that stuck its head above the surface of the water of Bulwagga Bay, near what is now called Port Henry, New York.

Sightings of the beast increased between 1870 and 1900, where the monster was sighted at least twenty different times, by witnesses of good character and social standing. Sightings during this time were so frequent that people readily came forth to tell their stories, without fear of embarrassment. As W. Haden Blackman explains in The Field Guide to North American Monsters, "Between 1870 and 1900 in particular, there were over twenty separate encounters, most involving witnesses of impeccable character. Nineteenth-century accounts of the monster were so vivid that P.T. Barnum was compelled to post a $50,000 reward for the monster's carcass."8

The year 1873 saw direct contact between Champ and some of the settlers, when the monster began stealing livestock from local farmers right off of the shores of the lake near Dresden, New York. One report even has Champ being fired upon by the crew of a steamship. Blackman explains,
In 1873, Champ clashed with settlers when it began stealing livestock from the shores of Lake Champlain near Dresden, New York. Enraged farmers searching for the monster allegedly discovered the creature lurking in a cave on the edge of the lake, but its glowing green eyes and guttural growls frightened the hunters away. Champ was later fired on by the crew of a steamship, and the beast, bleeding from superficial wounds, sank beneath the water. The brush with humanity evidently concerned Champ so greatly that the creature retired to the depths of the lake for several years.9

August 30 of this year saw another prominent sighting of Champ, this time by the passengers of a yacht by the name of Rob Roy. As the yacht lay becalmed in the lake off of Burton Bay Island, the crew of six saw an unusual creature shatter the glassy smooth surface of the lake, and watched amazed as it quickly swam past, the head occasionally breaking the water. 1878 was to prove to be the first in a prominent series of encounters.10

On November 5 of this year, three students at the University of Burlington (Vermont) saw Champ swim — with 15 feet of his body above water — from Appletree Point around Rock Dunder, and head toward Essex.

The year 1887 saw the most spectacular sighting of Champ yet, or since. Blackman explains, "Champ resurfaced on July 9, 1887, and charged a beach near East Charlotte, Vermont, forcing terrorized picnickers to flee. The creature swerved shortly before running aground, a wickedly sly "flyby" maneuver that left witnesses trembling in its wake."11 Coleman adds, "the creature made a spectacular appearance as a group of East Charlotte, Vermont picnickers saw it come around a bend, its flat snakelike head visible above the water, and make straight toward them. As it grew closer at a terrific speed, several people screamed, and the monster whirled to the right and disappeared under the waves."12 Revenge, perhaps, for the wounds he received in 1873?

In the last major sighting of the 1800s, Champ managed to scare yet another group of recreational boaters, this time, a group of canoeists. "On August 4, 1892, the American Canoe Association's annual outing, at Willsborough, New York, abruptly ended when the monster surfaced near their gathering and the canoeists scattered in panic."13

Another spectacular sighting found Champ struggling for life, stranded on the shore of the lake.

"The monster was finally observed in full glory when, in 1915, the beast found itself stranded in the shallows near the entrance of Bulwagga Bay."14 Champ escaped this fate however: "According to [the] New York Times account, several observers saw the monster stranded in the shallows at the entrance of Bulwagga Bay near the Crown Point fortifications. The animal, said to be 40 feet long, lashed the waters in an attempt to escape its fate. Soon it released itself, swam for the Vermont side, and finally sank 'submarine fashion, leaving a wake which was well defined on the glassy surface of the lake'&nbsp."15

After a hiatus of nearly 15 years, Champ began to surface again. In August of that year, a Mr. and Mrs. Langlois were fishing in their motorboat off of Rouses Point, New York. The creature headed straight for them, and the Langlois has to veer suddenly to avoid being hit, striking the creature with an oar as it passed.16

In the last major sighting for the next couple of decades, Champ interrupts a bridge-opening ceremony, stunning all aboard the S.S. Ticonderoga. As Coleman explains, "One Winooski, Vermont woman aboard the S.S. Ticonderoga described how she and other passengers witnessing a bridge dedication saw the beast raise its head from the nearby water."17


After several decades of reduced activity, Champ made a big comeback in the 1970s with a photograph that electrified the cryptozoological community. A young woman named Sandra Mansi took a photograph that, to this day, is still the only significant photographic evidence of the existence of Champ. As Loren Coleman and Jerome Clark explain in Cryptozoology A to Z: The Encyclopedia of Loch Monsters, Sasquatch, Chupacabras, and Other Authentic Mysteries of Nature,
Mansi's adventure began on July 5, 1977, as she, her husband-to-be, and her two children were picnicking and sightseeing along the Vermont side of Lake Champlain, north of St. Albans. The group decided to get a closer look at the lake and cut across a farm field.... As she sat there, watching her children play in the water, Mansi noticed an object near the middle of the lake. At first, she took it to be a large fish, then the hand of a diver surfacing, but eventually she realized it was the grayish-brown head and long snakelike neck of a creature breaking the lake's surface. The thing's head seemed to be twisting around, scanning the countryside. Though frightened, she rushed to get her camera from her car, and snapped one shot of the beast. Once the photograph was taken, she grabbed the children and fled the scene.18
Afraid of public ridicule, and fearful of damaging the emotional health of her young children, Mansi decided to hide away the picture and forget about it. However, prompted by friends, and a then-emerging leader in the field of Champ research named Joseph Zarzinsky, Mansi released the photo to the public, sparking a new era of Champ research in the process.

Bursting onto the cryptozoological scene in the 1970s, Joseph Zarzinsky, or "Zarr" as he was known around town, breathed new life into the search for Champ. "The towering, six-foot-six Zarzynski's friendly manner and confident style made him one of the most trusted cryptozoologists of the 1970s and 1980s."19 Zarr, who worked during the day as a social science instructor at a junior high school in Saratoga Springs, New York organized the "Lake Champlain Phenomena Investigation" and took on the mantle of lead investigator in the search for Champ.

With Zarr's boundless enthusiam and sympathetic ear, many who had seen Champ but were afraid to come forth due to public sanction, now came out in droves:
A wealth of new sightings poured forth, and the creature continues to appear before dozens of witnesses each year. In 1981, a conference focusing on the existence of the aquatic reptile was held in Port Henry, New York, where Champ had long been protected by law. In August of that same year, a similar meeting convened in Shelburne, Vermont. Titled "Does Champ Exist?" the conference was led by noted cryptozoologist Joseph Zarzinsky, the founder of the Lake Champlain Phenomenon Investigation. In 1982, Zarzynski introduced a resolution in the Vermont House of Representatives and the New York State Senate designed to grant Champ greater legal protection. The resolution passed in both states, ensuring that anyone who willfully kills, injures, or molests Champ will be fully prosecuted.20
Zarzinsky also teamed up with other noted cryptozoologists, such as Roy Mackal, a University of Chicago zoologist know for his work on the Loch Ness Monster, and J. Richard Greenwell and B. Roy Frieden of the University of Arizona. This group of scientists subjected Mansi's photograph to scientific testing and proved that it had not been manipulated in any way. Though they believed that the photograph was authentic, Greenwell determined that the creature in her photograph was a plesiosaur, while Mackal concluded that is was more likely a zeuglodon. Both theorize, however, that these creatures probably were trapped in the lake after the last ice age, when the oceans retreated, leaving behind large, inland lakes such as Lake Champlain. They also theorized that these creatures can still reach oceans via rivers.21
Though Zarr still maintains an interest in Champ, he now spends most of his time searching for shipwrecks, and has even written a book on the subject called Monster Wrecks of Loch Ness and Lake Champlain. The search still continues however, under the supervision of one Dennis Jay Hall of ChampQuest

The search for Champ has today become a quest under the leadership of Dennis Jay Hall, who chronicles the modern search for Champ on his website, Champ Quest. Hall has also written a book on the subject called Champ Quest 2000: The Ultimate Search Field Guide & Almanac for Lake Champlain, which is probably the authoritative book on the subject. Hall's website chronicles local sightings of Champ up to the present day, including listings for 2001 and 2002, and there is even an online calendar to help you find the best times to look for Champ, whom he also refers to as "Champy" or "Champtany". If you need to report a Champ sighting, please contact Mr. Hall at sighting@champquest.com.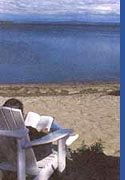 Lake Champlain is set in a lush, idyllic northern New England setting, surrounded by farmland, rolling hills and picturesque mountain ranges. New England is renowned for its fall displays, which come earlier than most states due to the cooler northern climate. Macintosh apples are also grown in Vermont, which is also known as being the largest producer of maple syrup in the country. So whether or not you sight Champ, you may find that your trip to Vermont (or upstate New York) is still quite enjoyable.
Lake Champlain is full of interesting scenic and recreational opportunities. There is also a great deal of restaurants and lodging available, including hotels, motels and B&Bs. The Lake Champaign Basin Program also has an excellent selection of maps in printable PDF format. For more information, check out Vermont's official tourism website, Vermont Explorer, or contact: Lake Champlain Visitors Center, 814 Bridge Road, Crown Point, NY 12928; 866-THE-LAKE; fax: 518-597-4649; email: info@lakechamplainregion.com. You can also contact the Lake Champlain Regional Chamber of Commerce at The Lake Champlain Regional Chamber of Commerce; 60 Main Street, Suite 100, Burlington, VT 05401; (802)863-3489; toll free: (877) 686-5253; fax: (802) 863-1538; e-mail: vermont@vermont.org. For information on Champ questing, contact Dennis Jay Hall of Champ Quest at sighting@champquest.com.

Mysterious Sea Serpents Part I: The Loch Ness Monster | Part III: Ogopogo
Part IV: The Search Continues


Editorial | Fragments | Shasta II | Sea Serpents II | Atlantis II
Register for our new Hall of Records Newsletter!
Questions? Comments? Suggestions? Advertising? Press Releases? Contact us!



&nbsp

&nbsp



Adirondack History


America's Historic Lakes: Samuel de Champlain: Adventurer in New France


America's Historic Lakes: Samuel de Champlain: Samuel de Champlain's Journal


America's Historic Lakes: Lake Champlain and Lake George History Timeline


HerosWelcome.com: Benedict Arnold


RootsWeb: Pictorial Field Book of the Revolution, Vol. I, Chapter VII.


Virtualology.com: French and Indian War


Kipawa.com: Algonquin Indian Tribe


Oneida-Nation.net: The Iroquois


Lake Champlain Maritime Museum


Historic Burlington


Vergennes Union High School: Vermont History




Champ Quest


Cryptozoology.com: The Denizen of Lake Champlain


The Cryptozoo Seamonster Aquarium: Champ


Parascope.com: Champ of Lake Champlain


The UnMuseum — Champ of Lake Champlain


TrueAuthority.com: Champ of Lake Champlain


Cosmiverse: "Champ spotted: presence deep, dark secret"


Lenkaland.com: Champ, The Lake Champlain Monster


Ufo X Files: Lake Champlain Mystery


Wikipedia: Lake Champlain Monster


Sea Serpents and Lake Monsters: Legends and Myths, or Reality?


British Columbia Scientific Cryptozoology Club: The Lake Champlain Monster


Mist Web Design: The Legendary Champ


U-Haul: Champ - Lake Champlain's Mystery


About.com: Paranormal Phenomena: Lake Monsters


Rense.com: 'Champ' Sighted On Lake Champlain 16 Times In 2000 - Mystery Remains


Enchanted Learning: Plesiosaurs




Vermont Explorer: Official Vermont Tourism Site


LakeChamplainRegion.com


LakeChamplainRegion.com: Lodging & Dining


Lake Champlain Chamber of Commerce


LakeChamplain.com


StartWright: Lake Champlain


Worldweb: Lake Champlain


Vermont State Parks


Link Vermont


LakeChamplainBirding.org


Lake Champlain Basin Program


Lake Champlain Basin Program: Calendar of Events


Lake Champlain Basin Program: Maps


Lake Champlain Basin Program: Lake and Basin Facts


Lake Champlain Basin Program: Lake Links


Lake Champlain Basin


National Weather Service: Lake Champlain Data


The Adirondacks


VisitLakeGeorge.com


Lake George/Adirondack Regional Convention and Tourist Bureau


Green Mountain Inn


Trains Around Vermont


The Wawbeek Inn


Vermont Only - General Store & More


Travel Channel: Vermont


City of Burlington, Vermont, USA


Vermont Expos: Champ




Editorial | Fragments | Shasta II | Sea Serpents II | Atlantis II
Register for our new Hall of Records Newsletter!
Questions? Comments? Suggestions? Advertising? Press Releases? Contact us!





Champ Quest 2000: The Ultimate Search Field Guide & Almanac for Lake Champlain
Dennis Jay Hall
Lake Champlain is home to a breeding colony of Loch Ness type animals. Within you will find the best search dates for the Summer of 2000. This field guide is a must for anyone with an interest in Cryptozoology, it goes way beyond any book in print when it comes to hard evidence and facts. Thirty years spent searching for and finding these ancient reptiles has made Dennis Hall the world's #1 authority on the animals that have chosen Lake Champlain as their home. This book is for kids and adults of all ages. With close to fifty photographs, maps, and illustrations this book is hard to close once opened. It includes a monthly calendar of best search dates for finding the elusive creatures we fondly call "Champ" (May through November 2000), recent sightings, historical sightings, new evidence, and chapters on zebra mussels & blue-green algae. Dennis has included many photos, stills from his 1985 video of Champ, maps, & sonar evidence. It's really great reading with lots of graphics. (Review by Amazon.com)
Click here to buy this book.




Champlain Monster
Jeff Danziger
Rating:




For the younger reader. Jeff Danziger creates a fantastic adventure of brother, sister, and old fisherman friend in search of the great monster of Lake Champlain. They dig up clues and finally plan the expedition to end the mystery surrounding this mythical being suppossedly living under the waves. The book is both humorous and light in style, presents creative characterizations, and is appropriately accompanied by charming illustrations--an exciting thriller cleverly presented in this fictitious tale! (Review by Amazon.com)
Click here to buy this book.




The Book of Sea Monsters
Bob Eggleston and Nigel Suckling
Rating:





For millennia, humankind has been fascinated by the awesome power of the sea and the creatures sheltered by its depths. In the past, ocean crossings toward new horizons were not just challenges of the physical elements, but defiances of the perils which the human imagination projects onto the unknown. Now, in The Book of Sea Monsters, these mythical creatures of the deep are vividly brought to life by award-winning artist Bob Eggleton. Exploring the myth, legend, scientific documentation and fiction inspired by the creatures like the serpent of Midgard, the biblical Leviathan, the Kraken and the infamous monster of Loch Ness, The Book of Sea Monsters will thrill and fascinate all lovers of mythology, legend and the many secrets of the sea. (From the back cover)
Click here to buy this book.




Mysterious America: The Revised Edition
Loren Coleman
Rating:





Loren Coleman's highly-praised, 1983 classic work, Mysterious America, has been thoroughly updated for this revised edition. This new edition contains an invaluable, never-before-published index; two completely new chapters, "Giant Catfish" and "Minnesota Iceman"; a new list, "The American Lion," with 141 entries; several extensively rewritten chapters, "A Case Study: The Dover Demon," "The Teleporting Animals and Magnolia," "The Phantom Panthers," "Maned Mystery Cats," "Mystery Kangaroos and Devil Monkeys," "Eastern Bigfoot: Momo and Marked Hominids"; and new material and updates to several chapters, "Devil Names and Fortean Places," "Alligators in the Sewers," "Giant Snakes," "Lake Monsters," "Champ," "The Jersey Devil," "The Phantom Clown." (Review by Amazon.com)
Click here to buy this book.




Atlas of the Mysterious in North America
Rosemary Ellen Guiley
Rating:





This atlas locates and gives brief descriptions of the most intriguing places in the United States and Canada. Burial mounds, sacred places, ghost lights, haunted spots and even the locations of cryptozoological sightings are covered. Find out if your state is home to a mystery, or peruse the atlas to get ideas about where to go for your next vacation. (Review by Amazon.com)
Click here to buy this book.




The Field Guide to North American Monsters
W. Haden Blackman
Rating:





Gleaned from Native American legends, American folklore, and modern sightings, this is the first-ever collection cataloging the vast expanse of bizarre creatures inhabiting North America. Laid out like a field guide to birds or mammals, the book helps the reader become familiar with each monster through photos (when available), drawings, and each creature's vital statistics: distinguishing features, range and habitat, diet, the source reporting the monster, and a rating of the likelihood of spotting each creature in the wild. (Review by Amazon.com)
Click here to buy this book.




Cryptozoology A to Z: The Encyclopedia of Loch Monsters, Sasquatch, Chupacabras, and Other Authentic Mysteries of Nature
Loren Coleman, Jerome Clark
Rating:





The Loch Ness Monster, Bigfoot, the Abominable Snowman -- these are the names of the elusive beasts that have caught the eye and captured the imaginations of people around the world for centuries. Recently, tales of these "monsters" have been corroborated by an increase in sightings, and out of these legends a new science has been born: cryptozoology -- the study of hidden animals. Cryptozoology A to Z, the first encyclopedia of its kind, contains nearly two hundred entries, including cryptids (the name given to these unusual beasts), new animal finds, and the explorers and scientists who search for them. Loren Coleman, one of the world's leading cryptozoologists, teams up with Jerome Clark, editor and author of several encyclopedias, to provide these definitive descriptions and many never-before-published drawings and photographs from eyewitnesses' detailed accounts. Full of insights into the methods of these scientists, exciting tales of discovery, and the history and evolution of this field, Cryptozoology A to Z is the most complete reference ever of the newest zoological science. (Review by Amazon.com)
Click here to buy this book.


Monster Wrecks of Loch Ness and Lake Champlain
Joseph W. Zarzynski
Click here to buy this book.


More Sea Serpent books...






Cruising America's Waterways - Lake Champlain and the Champlain Canal
Cruise the historic Champlain Canal and explore Lake Champlain, the "Sixth Great Lake," with the crew of Cruising America's Waterways. Starting in Albany, New York, we travel north to Rouse's Point and the Canadian border. Along the way we tour Vermont's famed Shelburne Museum; visit the Saratoga Battlefield and Fort Ticonderoga; explore Burlington's exciting waterfront; keep an eye out for the legendary sea monster, Champ, while charter fishing; and much more. (Review by Amazon.com)
Click here to buy this video.




Editorial | Fragments | Shasta II | Sea Serpents II | Atlantis II
Register for our new Hall of Records Newsletter!
Questions? Comments? Suggestions? Advertising? Press Releases? Contact us!