Editorial | Press Releases | Book Reviews | Fragments
Serpent Mound I | Giants I | Osiria I
Register for our new Hall of Records Newsletter!
Questions? Comments? Suggestions? Advertising? Press Releases? Contact us!

Roughly Speaking | Adriatica.net | Atlantis in America
Roughly Speaking
Real Language Guides for Real Life
SPANISH and TURKISH now available!

anguage brings meaning to life; don't let it get in the way of yours. Proudly introducing Roughly Speaking Language Guides: Finally, real help on the road. . . and a social conscience, too!
In response to the frustration produced by the traditional phrase book fodder of questions without answers, endless lists of vocabulary and little or no context, Roughly Speaking provides travellers the questions AND answers most likely to be encountered, the most common vocabulary and ways to learn more, and full examples of situational conversations for context and meaning. Also included is an introductory grammar for those wanting a deeper understanding,
Whether on a short weekend trip across the border, a two-week ecotour on another continent, or a year-long trek around the planet, you're bound to run into the language barrier eventually.
And now that's finally something to look forward to.
Roughly Speaking Language Guides are instantly downloadable using a credit card, making them accessible to anyone, any time, anwhere internet access is available. And at Just 20 pages on average, they're concise and cheap to print out and use on the road. Each guide is usually only $5, but as an introductory offer they will be just $4 each through summer.
What we are most proud of, though, is the 10% of every sale that will be contributed to aiding needy communities in areas where the Roughly Speaking Languages are spoken.
Project suggestions are made by the users of Roughly Speaking Language Guides, and all projects are funded directly by working with the communities and people themselves.
Visit www.roughlyspeaking.com for more information, or use the contact information below to receive a complimentary copy of a full-length Roughly Speaking Language guide for review.
--------------------------------------------------------------------------------
FOR MORE INFORMATION, CONTACT:
Dan Thompson
Roughly Speaking
phone: (415) 876-4947
fax: (240) 331-8682
http://www.roughlyspeaking.com
dan@roughlyspeaking.com


&nbsp &nbsp &nbsp &nbsp

&nbsp &nbsp &nbsp &nbsp


Adriatica.net Kids
Eventful Summer for Children and Teenagers on the Island of Solta

AGREB, 02/04 2003 - The Croatian online travel agency adriatica.net has recently included in its offer, that you can view at www.adriatica.net, an interesting program for children and teenagers. The adriatica.net kids program takes place within the International Summer School on the central Dalmatian island of Solta and, besides swimming and playing, includes language learning, sports activities and taking part in creative workshops.
Intensive English language courses based on the latest programs are held by native speakers and teachers from all over Europe and the world, while classrooms are ideal - classes take place outdoors, in the shadows of century old pine trees. The Net-web course is intended for children who cannot spend their summer without computers, while future actors, directors and screenwriters can launch their careers with the help of the Hollywood course. Those more interested in music can record their first song and video in the Music-video workshop. For those talented in sports, there are soccer, basketball and volleyball schools, while all those who decide to take part in the Adventure Tour Program will find out more about the island of Solta and its traditions by participating in numerous activities such as canoeing, preparing a photo exhibition etc.
Participants will stay in rooms and apartments close to the sea that are surrounded by dense pine woods. Besides crystal clear sea and a magnificent beach, children have at their disposal sports and entertainment activities, water park, traditional Dalmatian restaurant, pizzeria and computer room.
Evenings are intended for sports and entertainment activities, as well as for various quizzes, while the most exciting part - party time - starts after dinner. Besides music and dance in the discotheque or on the beach, various events, such as King and Queen of Hawaii Night or karaoke, are organized.
Child safety is guaranteed since there is one adult responsible for taking care of participants on every eighth child. Teachers, instructors, animators and other staff are responsible for daily care of participants, while there is also a doctor in the tourist complex. During their trip to and back from Solta, as well as during their stay in the International Summer School, participants are insured by Allianz Insurance.
So far, about 70 000 children from all over Europe have spent unforgettable summer holidays in the International Summer School on Solta learning through creative activities. All parents who would like their children to spend an eventful summer can reserve a place in the International Summer School at www.adriatica.net.
FOR MORE INFORMATION, CONTACT:
Adriatica.net
Tel +385 (0)1 3013666
Fax +385 (0)1 3013210
URL: http://www.adriatica.net
e-mail: info@adriatica.net



&nbsp &nbsp &nbsp &nbsp

&nbsp &nbsp &nbsp &nbsp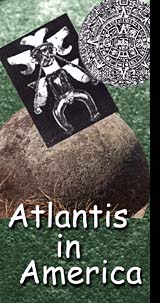 Atlantis In America
Kevin Sullivan, Washington Post Saturday, October 12, 2002

avana -- The images appear slowly on the video screen, like ghosts from the ocean floor. The videotape, made by an unmanned submarine, shows massive stones in oddly symmetrical square and pyramid shapes in the deep-sea darkness. Sonar images taken from a research ship 2,000 feet above are even more puzzling. They show that the smooth, white stones are laid out in a geometric pattern. The images look like fragments of a city, in a place where nothing man-made should exist, spanning nearly eight square miles of a deep-ocean plain off Cuba's western tip.
"What we have here is a mystery," said Paul Weinzweig, of Advanced Digital Communications, a Canadian company that is mapping the ocean bottom of Cuba's territorial waters under contract with the government of President Fidel Castro. "Nature couldn't have built anything so symmetrical," Weinzweig said, running his finger over sonar printouts aboard his ship, tied up at a wharf in Havana harbor. "This isn't natural, but we don't know what it is."
The company's main mission is to hunt for shipwrecks filled with gold and jewels, and to locate potentially lucrative oil and natural gas reserves in deep water that Cuba does not have the means to explore. Treasure hunting has become a growth industry in recent years as technology has improved, allowing more precise exploration and easier recovery from deeper ocean sites. Advanced Digital operates from the Ulises, a 260-foot trawler that was converted to a research vessel for Castro's government by the late French oceanographer Jacques Cousteau.
Since they began exploration three years ago with sophisticated side-scan sonar and computerized global-positioning equipment, Weinzweig said they have mapped several large oil and gas deposits and about 20 shipwrecks sitting beneath ancient shipping lanes where hundreds of old wrecks are believed to be resting. The most historically important so far has been the U.S. battleship Maine, which exploded and sank in Havana harbor in 1898, an event that ignited the Spanish-American War. In 1912, the ship was raised from the harbor floor by the U.S. Army Corps of Engineers and towed out into deeper water four miles from the Cuban shore, where it was scuttled. Strong currents carried the Maine away from the site, and its precise location remained unknown until Ulises' sonar spotted it two years ago.
Then, by sheer serendipity, on a summer day in 2000, as the Ulises was towing its sonar back and forth across the ocean like someone mowing a lawn, the unexpected rock formations appeared on the sonar readouts. That startled Weinzweig and his partner and wife, Paulina Zelitsky, a Russian-born engineer who has designed submarine bases for the Soviet military. "We have looked at enormous amounts of ocean bottom, and we have never seen anything like this," Weinzweig said. The discovery immediately sparked speculation about Atlantis, the fabled lost city first described by Plato in 360 B.C. Weinzweig and Zelitsky were careful not to use the A-word and said that much more study was needed before such a conclusion could be reached. But that has not stopped a boomlet of speculation, most of it on the Internet.
Atlantis-hunters have long argued their competing theories that the lost city was off Cuba, off the Greek island of Crete, off Gibraltar or elsewhere. Several Web sites have touted the images as a possible first sighting. Among those who suspect the site may be Atlantis is George Erikson, a California anthropologist who co-authored a book in which he predicted that the lost city would be found offshore in the tropical Americas. "I have always disagreed with all the archaeologists who dismiss myth," said Erikson, who said he had been shunned by many scientists since publishing his book about Atlantis. He said the story has too many historical roots to be dismissed as sheer fantasy and that if the Cuban site proves to be Atlantis, he hopes "to be the first to say, 'I told you so.' " George Erikson , Coauthor of Atlantis In America: Navigators of the Ancient World
URL: http://www.atlantisinamerica.com
e-mail: eriksongd@aol.com






Editorial | Press Releases | Book Reviews | Fragments
Serpent Mound I | Giants I | Osiria I
Register for our new Hall of Records Newsletter!
Questions? Comments? Suggestions? Advertising? Press Releases? Contact us!