PREVIOUS | NEXT


Primary Mound | Secondary Mound | Restored Wall | Aztalan Museum | Princess Mound

Aztalan Home | Directions | Synopsis | Story (12/98) | Slide Show | Books | Links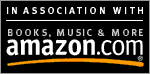 Books


Lost Cities of North and Central America
David Hatcher Childress
Rating:





I enjoy Childress' books mainly because he comes across as very honest, although he engages in too much speculation to be taken at face value. Overall I find his books a very engaging read, and the speculative aspect, though often unscientific, is very entertaining. Moreover, the amazing amount of study and travel he has done brings a certain amount of credibility to his work. If you are a maverick archaeologist, Childress' Lost Cities series is for you.
Click here to buy this book.




America's Ancient Treasures: A Guide to Archaeological Sites
and Museums in the United States and Canada
Rating:





Franklin Folsom
America's ancient treasures (1993 edition) is a reprint of a classic first printed back in 1971. It contains a thorough recounting of every major and most minor Native American archaeological sites and museums in North America, and is an excellent resource tool for those interested in a serious exploration into North America's ancient past.
Click here to buy this book.




Wisconsin: Off The Beaten Path
Martin Hintz, Dan Hintz
Click here to buy this book.



The Lost Pyramids of Rock Lake : Wisconsin's Sunken Civilization
Frank Joseph
Click here to buy this book.



Atlantis in Wisconsin: New Revelations About the Lost Sunken City
Frank Joseph
Click here to buy this book.



Wisconsin's Past and Present: A Historical Atlas
Wisconsin Cartographers Guild, William Cronon
Despite Wisconsin's rich history, no historical atlas has been produced in the state since 1878. The Historical Atlas of Wisconsin, created by the Wisconsin Cartographers' Guild, has filled this void with a fascinating and colorful portrait of the state's complex development. This useful and entertaining guide, produced to mark 150 years of statehood, provides a lasting resource for map lovers and history buffs of all ages, and anyone interested in Wisconsin's heritage. The Atlas features more than 100 pages of historic and geographic data, including full-color maps, descriptive text, photos, and illustrations.
Click here to buy this book.



Ancient Aztalan
Samuel A. Barrett
Click here to buy this book.





Alexander Von Humboldt, Colossus of Exploration
Ann Gaines, Michael Collins (Photographer)
Alexander von Humboldt's extraordinary reputation as the foremost man of science of his day is amply justified in this exciting, factual, yet carefully integrated discussion of his explorations and studies. An interesting biography of a man who should be better known. Bibliography, index. -- Copyright © 1991 The Horn Book, Inc. All rights reserved. --This text refers to an out of print or unavailable edition of this title.
Click here to buy this book.


ILLINOIS | INDIANA | IOWA | KANSAS | MICHIGAN | MINNESOTA | MISSOURI
NEBRASKA | NORTH DAKOTA | OHIO | SOUTH DAKOTA | WISCONSIN

WEST | SOUTHWEST | MIDWEST | SOUTH | NORTHEAST

UNITED STATES | CANADA | CENTRAL AMERICA | CARIBBEAN

NORTH AMERICA | SOUTH AMERICA | EUROPE & EURASIA | AFRICA
MIDDLE EAST | ASIA | AUSTRALIA & THE PACIFIC

BACK TO WORLD MAP